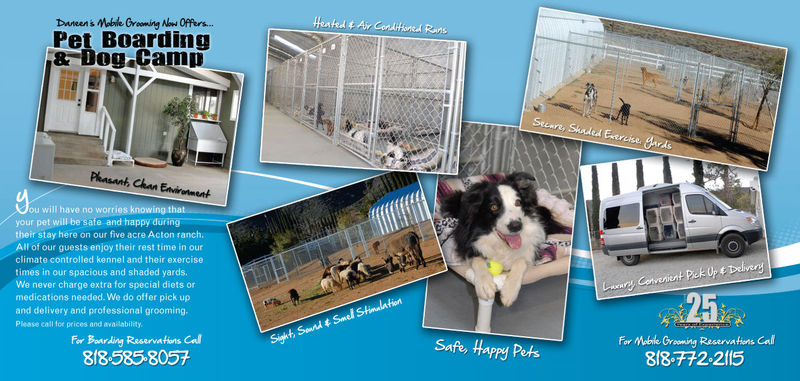 Daneen's Pet Boarding
You will have no worries knowing that your pet will be safe and happy during their stay here on our 5 acre Acton ranch.
All of our guests enjoy their rest time in our climate controlled kennel and their exercise times in our spacious and shaded yards. We never charge extra for special diets or medications needed. We do offer pick up and delivery and professional grooming. Please call for prices and availability.
For reservations call      818.585.8057
Ask about our multiple dog discounts and extended stay discounts !!!
Daneen's Pet Boarding
Our 5 acre Pet Boarding facility is located in Acton, CA. Our 3000 square foot building is fully heated and air conditioned. Each pet has a separate 6 x 12 run inside with a comfortable bed with blankets and water available at all times… inside and in the exercise yards. We have 22 spacious exercise yards that are shaded and have a view to all of our barnyard critters!! It's fun to see the different reactions that the dogs have to the sheep, donkey's, horses, cows and even the pigs. The dogs are never allowed to be in with the barnyard animals but are allowed to see and sniff them thru the fence. The barnyard critters seem to enjoy the company and attention of the dogs too!!
We have exercise times for the pups 4-5 times a day depending on weather. We do not practice "dog park" exercise times….. Each dog gets it's own yard or can share a yard with housemates. It is really wonderful to see the pups running and exploring on the ranch!! They all seem to get PLENTY of exercise. Most owners report that they pretty much do lots of sleeping upon their return home.
FEEDING
We recommend that each dog comes with the food it's used to eating. We find that this is easier on digestive systems. We keep to your feeding schedule. So we feed once or twice a day. We are very familiar with a RAW diet so no worries if this is what you are feeding.
PICK UP & DELIVERY
We offer Pick up & Delivery in our fully heated and air condition Sprinter Vans. Each dogs rides in a crate for their safety and comfort. While we do have a small handful of customers that drop their pets off here at the ranch we find that the pups that we pick up have an easier time of settling in because they are not looking for their owners.
GROOMING
We also offer and recommend our grooming services before the pups go home. Each pup gets a good scrubbing bath, brush out, nails trimmed, ears cleaned, anal glands expressed, blow dry and any trimming or style needed.
AREAS WE SERVICE
Dog & Pet Boarding services for the San Fernando Valley, Los Angeles areas, Beverly Hills, Pacific Palisades, Malibu, Glendale, Burbank, Simi Valley, Santa Clarita Valley, Antelope Valley, Ventura County.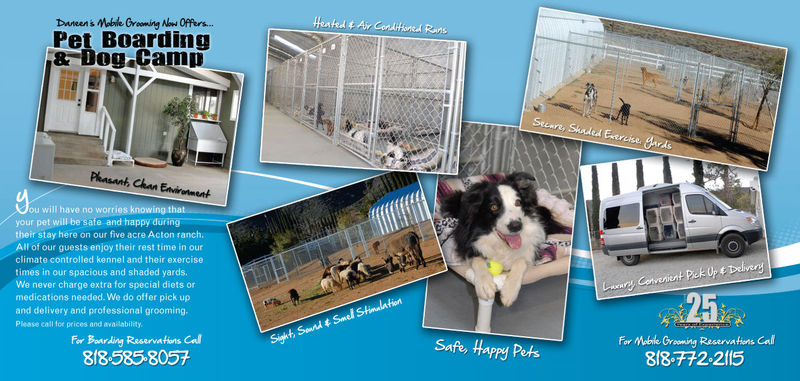 Dog Boarding Agoura Hills
Dog Boarding Arcadia
Dog Boarding Arleta
Dog Boarding Bel Air
Dog Boarding Beverly Hills
Dog Boarding Brentwood
Dog Boarding Burbank
Dog Boarding Calabasas
Dog Boarding Canoga Park
Dog Boarding Castaic
Dog Boarding Century City
Dog Boarding Chatsworth
Dog Boarding Culver City
Dog Boarding Encino
Dog Boarding Glendale
Dog Boarding Granada Hills
Dog Boarding Hidden Hills
Dog Boarding Hollywood
Dog Boarding La Canada Flintridge
Dog Boarding La Crescenta
Dog Boarding Lake View Terrace
Dog Boarding Lancaster
Dog Boarding Los Angeles
Dog Boarding Los Feliz
Dog Boarding Malibu
Dog Boarding Mission Hills
Dog Boarding Montrose
Dog Boarding North Hollywood
Dog Boarding Northridge
Dog Boarding Pacoima
Dog Boarding Palmdale
Dog Boarding Pasadena
Dog Boarding Porter Ranch
Dog Boarding San Fernando
Dog Boarding Santa Clarita
Dog Boarding Santa Monica
Dog Boarding Saugus
Dog Boarding Sherman Oaks
Dog Boarding Shadow Hills
Dog Boarding South Pasadena
Dog Boarding Studio City
Dog Boarding Sunland
Dog Boarding Sun Valley
Dog Boarding Sylmar
Dog Boarding Tarzana
Dog Boarding Toluka Lake
Dog Boarding Tujunga
Dog Boarding Van Nuys
Dog Boarding West Hollywood
Dog Boarding West Los Angeles
Dog Boarding Westlake Village
Dog Boarding Winnetka
Dog Boarding Woodland Hills